Cocaine Bear
Narrow your options by: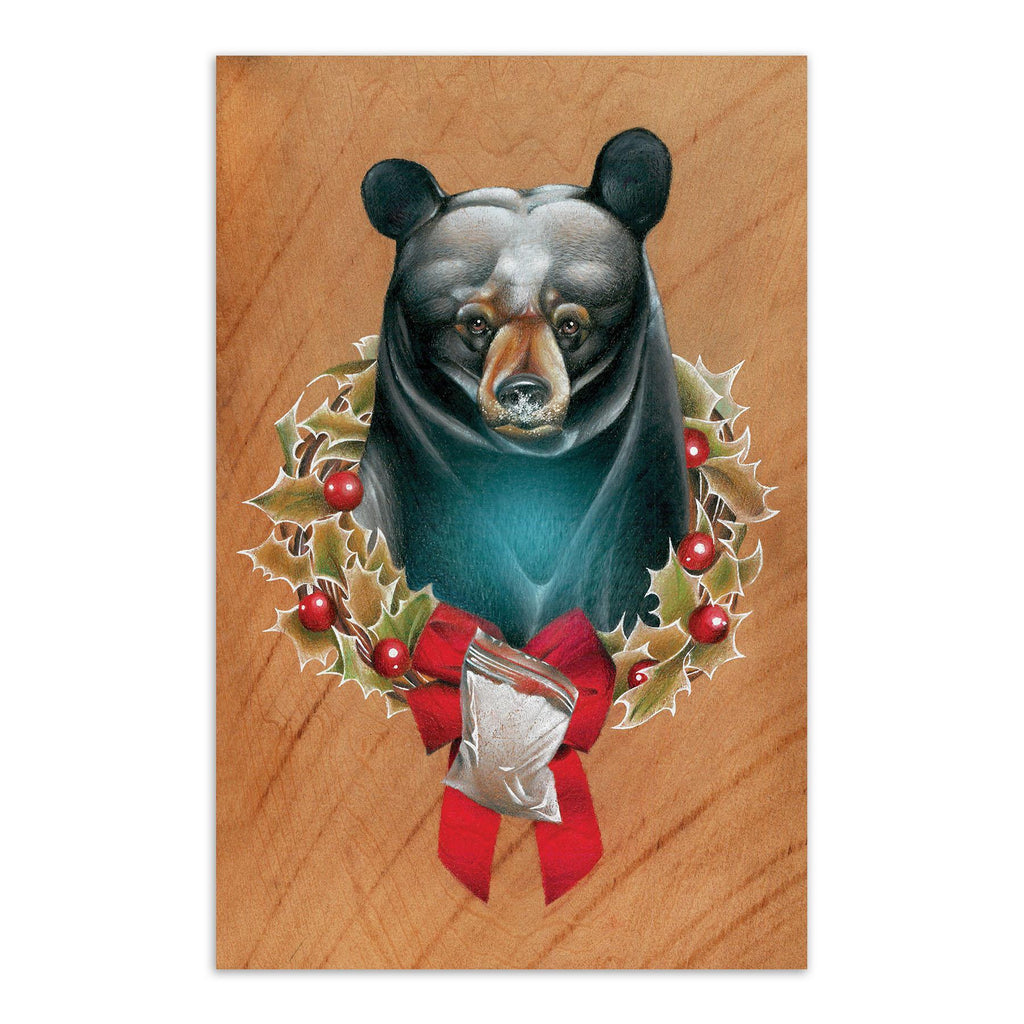 On Sale $14.00 Regular price $25.00
30% Off Everything Added At Checkout
Come See the Real Cocaine Bear at the Kentucky Fun Mall
Yep, it's real! Come meet Pablo Escobear at the Kentucky Fun Mall!
If you're into urban legends, chances are you've heard about the Cocaine Bear. He was an American Black Bear who happened upon a ton of cocaine that was jettisoned from an airplane — and not only did he find it, he ate it. Lots of it. It's a tale too wild to be fake, and we've got the full story of how exactly Cocaine Bear came to be. There's even a movie about Cocaine Bear.
But we've got the real Cocaine Bear. We here at the Kentucky Fun Mall obtained the actual Cocaine Bear taxidermy and have put it on display for everyone to enjoy. You can come to see him, take some pics, and grab your very own Cocaine Bear merch while you're here. Read on to learn more about the bear, his story, the movie, and all the sweet Cocaine Bear merch you can handle.
Where did Cocaine Bear come from?
To truly understand Cocaine Bear, you need to know his whole story. Here's a quick summary:
In the late 1970s and early '80s, a man named Andrew Thornton II was practicing law in Kentucky. But he wasn't just a lawyer — he used his knowledge to begin stealing weapons and smuggling drugs. In 1985, Thornton died while on a coke-smuggling run when he jumped out of his plane and became entangled in his parachute. When he was found, he was wearing body armor and night vision goggles. He was carrying cash, knives, guns…and a duffel bag with 75 pounds of cocaine in it.
Now, here's where it gets even better (yes, it gets better): Three months later, a dead bear was found in Georgia's Chattahoochee National Forest. The bear had overdosed on cocaine that Thornton had dropped from his airplane. In fact, he had eaten enough of it that its stomach was "packed to the brim" with cocaine. 
After the Georgia Bureau of Investigation's medical examiner had performed a necropsy, he contacted a friend who did taxidermy. He had the bear's body stuffed and gave it to the Chattahoochee River National Recreation Area, where the Cocaine Bear taxidermy stood in the visitors' center into the early 1990s. 
Sometime in the early '90s, the park and its facilities were evacuated ahead of an approaching wildfire. The employees took the artifacts with them and put them in temporary storage in a nearby town. Of course…they went missing. 
The Cocaine Bear surfaced next in, appropriately enough, Las Vegas. Country star Waylon Jennings had found it, bought it, and gifted it to his friend Ron Thompson as an inside joke. When Thompson died in 2009, his estate went to auction and the bear was sold.
When we got wind of this, we contacted Nellis Auction House on the off chance we'd be able to figure something out. And we did. We found out who (and where) the bear had been sold to…and we contacted him. Sadly, he had passed away, but we were able to speak to his wife, who told us we were free to take Cocaine Bear off her hands for the low, low price of zero dollars (plus shipping). So we brought him home to the Kentucky Fun Mall. 
And now you know.
Is the movie Cocaine Bear based on a real story?
Well, yes and no. The movie Cocaine Bear is loosely based on the true Cocaine Bear tale, but it takes a few liberties to tell a dramatized version. Directed by Elizabeth Banks, the movie follows a group of people who find themselves in the path of a 500-pound bear who had just ingested a full duffel bag of cocaine, leaving the creature to complete a cocaine-fueled rampage across the forest. Locals and tourists find themselves joining together to survive the bear's attack.
The film's cast includes Keri Russell from the hit TV drama Felicity, who takes on the role of Colette Matthews. Actor and rapper O'Shea Jackson, Jr. (we like to call him "Lil' Ice Cube") is playing a character named Howard. Other featured actors include Christian Convery-Jennings of Netflix's Sweet Tooth, Alden Ehrenreich from Supernatural, and Jesse Tyler Ferguson from Modern Family.
Whether or not you decide to take in the movie, you can make a trip today to visit the Cocaine Bear back at the Kentucky Fun Mall. Here, you can see the animal in its full glory and learn more about his long, strange tale.
More than just taxidermy
For Cocaine Bear fans, it's not enough to just come to see the Cocaine Bear — you gotta have proof. That's where our awesome Cocaine Bear merch comes into the picture. You can choose your own adventure:
Cocaine Bear history
If you want to become a student of Cocaine Bear history, pick up a copy of The Bluegrass Conspiracy: An Inside Story of Power, Greed, Drugs & Murder by Sally Denton. This book takes a deep dive into the life of Andrew Thornton II, covering his time as a lawyer-slash-drug smuggler. It also tells the entire Cocaine Bear origin story (as if you could have Andrew Thornton II without Cocaine Bear!). According to the quarter-million people who have purchased this book, it's a must-read.
Cocaine Bear t-shirts, hoodies, and tank tops
If you're someone (or know someone) who loves cocaine and bears (or both…or one or the other), you have to pick up a Cocaine Bear t shirt or tank top. You know you can trust the Kentucky Fun Mall to sling the best shirts around: Super soft tri-blend means you stay comfortable while you're doing what you do. 
And there are tons of different designs. Think Miami-in-the-'80s vibes, or throw on the new classic Cokey The Bear while you're out in the woods sniffing for trouble. We also have totally-'90s ultimate party bear shirts with graphics that take you right back to your Saved By The Bell days. And if you're more of a vintage logo kind of person, we've got you there, too: You'll love our D.A.R.E.-themed Cocaine B.E.A.R. shirt. Guaranteed.
Cocaine Bear candles
So your mom's not a t-shirt person. That's OK. We've got lots of other great gifts she'll love. Take this candle, for example. We've concocted a candle scent that will bring you straight back to the Chattahoochee National Forest. With subtle notes of berries, weed, forest moss, and sunshine, this double-wicked candle transports you back to the woods with a single sniff. Try it, you'll like it. 
Cocaine Bear magnets and stickers
Want something to get your work bestie? How about a subtle, yet powerful reminder of the magic of the Cocaine Bear? Our high-quality stickers and magnets read "Cocaine Bear", but we think they should say "I'm a cultured person with excellent taste". Available in many different designs, so you can choose the perfect pairing. We're partial to the NASCAR design, but really, there's something for everyone. 
Cocaine Bear postcards
Nothing says "I'm having a noseful of fun in KY" like a Cocaine Bear postcard. It's a hilarious and affordable way to show off your impeccable sense of humor to friends and family alike, whether you're sending one to your uncle Jim who's having trouble letting go of the '70s or the friend you love to kick back and have a few nose beers with. Totally worth the pocket change, we say.
Cocaine Bear jewelry
If you're looking for a gift for the jewelry lover in your life, have we got something for you: Cocaine Bear earrings. They're a perfect conversation piece — wouldn't you want to know the story behind two little black bears wearing state trooper hats and gold chains? We do. 
Cocaine Bear accessories
Socks and hats? We got 'em. There's nothing like a Miami-esque Pablo Escobear baseball hat to show the people around you that you love to laugh (and party). And Cocaine Bear socks are the perfect way to both keep your feet warm and comfy and show off your couture-level sense of style to the world. Seriously, black bears and bricks…other than mirrors and razor blades, can you think of a more classic pairing?  
Cocaine Bear blow globes
We're not like regular snow globes, we're blow globes. Get the joke? No? OK. They're still fun to look at and shake, and they look darn good on your knick-knack shelf. 
Where can I see the real Cocaine Bear?
If you want to see the real-life Cocaine Bear, come on down to the Kentucky Fun Mall. Aside from getting a picture with Cocaine Bear to share on all your socials, we've also got merch. And nothing says "Hey, I like to party — do you like to party?" like your own Cocaine Bear merch. Trust us: We're experts. Also, don't do drugs!
But if you can't visit the Kentucky Fun Mall in person, no sweat. You can pick up your own Cocaine Bear snow globe, Cocaine Bear shirt, and more right here. And don't worry — Cocaine Bear isn't going anywhere. He gave up his bad habits back in the mid-80s.