About Kentucky for Kentucky
OUR MISSION IS TO ENGAGE AND INFORM THE WORLD BY PROMOTING KENTUCKY PEOPLE, PLACES, AND PRODUCTS. AND TO KICK ASS FOR THE COMMONWEALTH!
Kentucky's influence is big and it is strong. In the USA and all over the world, the contributions of the Commonwealth are too many to count and too varied to describe. We were the first to sing Happy Birthday, to slap high fives, and the only people with enough sense to know that chicken ain't chicken until it's breaded and fried. We're the perfect mix of class and crazy. We invented and perfected bourbon, the king of spirits. We run moonshine through the mountains. In May, we Run for the Roses.
We wrote the book on cool by birthing Clooney, Depp and Hunter S. Thompson. We shocked the world with Ali, led a divided nation with Lincoln. Like Daniel Boone and Wendell Berry, we are explorers and visionaries. Our vibe is inimitable. America taps its steering wheel to the honky-tonk twang of Dwight Yoakam and Gary Stewart. We are Bill Monroe, Lee Sexton, The Judds and My Morning Jacket. We are Loretta. And we're damn proud of it.
So whether you're from Louisville or Lexington, Paducah or Pikeville, Frankfort, Bowling Green, Whitesburg, Winchester, Possum Trot, Rabbit Hash, Dwarf, Cutshin or Viper–or if you just want to be a part of something big–come join us as we celebrate Kentucky's awesomeness.
Kentucky for Kentucky is a small company located in the heart of the Bluegrass region in Lexington. We are believers, promoters and producers for the great Commonwealth of Kentucky. We are obsessed with Kentucky, the real Kentucky. We're all about highlighting the complex identity of our state and–with words, images and one-of-a-kind products–we want to spread the stories of this amazing place we call home. Kentucky has a lot to offer and even more to say. We're showing the world why they should listen up.
Because make no mistake about it…
Kentucky Kicks Ass.
FEATURED IN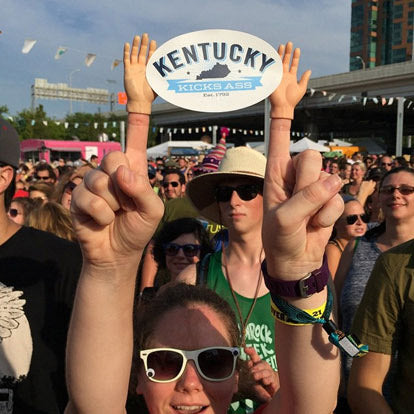 Campaigns
Gold-plated chicken bone jewelry. Crowdfunded Super Bowl ads. Free tattoos. State slogans that nobody asked us to make. Not the kind of stuff you'd expect from a taxpayer-funded tourism agency. Well, we are NOT a taxpayer-funded tourism agency. We're just some down-and-dirty Kentucky crushers who get the kind of results the big guys can only dream about. Peep the method to our madness.
REBRANDING KENTUCKY
Our baby. The Mothership. In 2012, we were tasked (by ourselves) to develop a new brand for Kentucky, something that got people excited and better reflected our unique style. Our goals? Increase tourism, attract new business, foster pride, diminish stereotypes and distinguish the Commonwealth of Kentucky from any other place on the planet. So we talked to some of the coolest Kentuckians we could find and asked them, "How would you describe Kentucky?" The tagline pretty much wrote itself and, before we knew it, we had a movement on our hands.
KENTUCKY KICKSTARTER
On September 8, 2011, we launched a 60-day Kickstarter campaign to raise $3.5 million to crowdfund a Super Bowl ad to show the world just how amazing Kentucky is.
KENTUCKY KICKS ASS TATTOOS
On May 22, 2013 we asked our friends on Facebook if they'd like a 'Kentucky Kicks Ass' tattoo. We also offered to pay (using only Abe Lincolns). Since then we've been hooking a bunch of kick ass Kentuckians up with some amazing 'Kentucky Kicks Ass' tattoos.
EXTRA CRISPY DOPE GOLD KENTUCKY FRIED CHICKEN BONE NECKLACES
In June of 2014 we launched a rad new product called 'Gold Kentucky Fried Chicken Bone Necklaces'. Everyone loved these amazing gold plated chicken bone necklaces. This is a case study about those epic gold KFC bone necklaces. Enjoy.
SUBSCRIBE
FOR ALL THE KICK ASS YOUR BABY CAN HANDLE